When a young intern at United Methodist Communications (UMCOM) spent her summer of 2015 uploading thousands of Chocolate Moose Media (CMM) animated videos, she was creating the Internet's largest collection of health-and-social-justice animation.
By the end of the year dozens more had been added to CMM's Vimeo channel, bringing the total to 3,370 videos. It was Firdaus Kharas' most productive period since starting the company in 1995. The year's new videos cover subjects from violence against children and solar energy to Ebola prevention and diabetes. Each is available for free download and use.
"I am glad that in 2015 we were able to create one location with much of my work over the last 20 years. Most of that work is timeless, and I hope it will be useful for years to come," Kharas says.
The 2015 projects include:
Ebola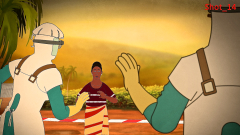 The prime project was a trio of short videos aimed at the Ebola epidemic in West Africa. The first two – Ebola: A Poem For The Living and In Praise of Prevention for UMCOM – deal with prevention in an effort to help halt the spread of the disease. The third – Beyond Survival done for Catholic Relief Services – was about survivors being re-integrated into mainstream society after loved ones had died.
The first was originally released in English, French and Krio but with the help of Translators Without Borders and others like the Voice of America, it is now available in 17 versions. This allows the video to speak to 95 percent of West Africans and as many as 400-450 million people across the continent. It has already won three international awards.
The second brought in the magnificent voice of activist and international recording star Angelique Kidjo to sing the soundtrack. As always, the music for all three was composed by Ottawa's Andrew Huggett with the dialogue being co-written by Brent Quinn.
Violence Against Children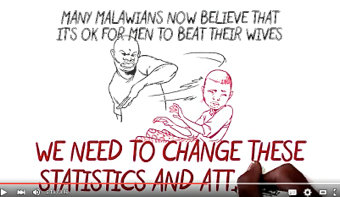 Late in the year came a spectacular whiteboard animation for UNICEF Malawi aimed at combatting violence against children. The video was debuted at the opening of Malawi's parliament.
Diabetes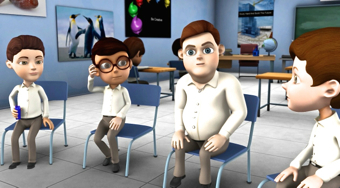 A 12-short series was produced for the Qatar Diabetes Association that focuses on a small group of elementary school children in the Persian Gulf who are affected by Type 1 diabetes. Launched in November at the World Diabetes Congress in Vancouver, the series is available in Arabic and English. Diabetes is now a major health threat worldwide with 4.5 million people dying of it in 2015 and 600 million predicted to contact it by 2035.
Values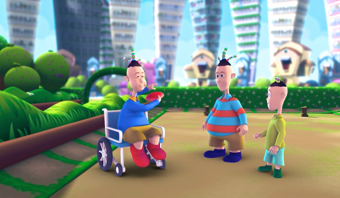 The six-video series for UMCOM explores universal values for children. Called Biggie and Smallie, it aims to inspire growing children to act consciously by learning how their actions and choices affect others.
The year wasn't all about production for Kharas. He was also awarded an Honorary Doctorate of Laws from Carleton University for his innovative work as a social entrepreneur and for the advancement of public health and children's rights in a global context. It is his second honorary doctorate. He was also voted one of the world's top-50 most talented social innovators by the World Corporate Social Responsibility Congress.
"I will continue my work as long as I can. I am absolutely convinced that we can better the human condition using behavior-change communications," he says.
Kharas is now at work on a new global series for UNICEF on polio and routine immunization. The three videos, in seven languages, will vary from one to five minutes and focus on promoting inoculation to eradicate polio and other diseases. He is also working on creating a beautiful animation for the Nature4All campaign of the International Union for the Conservation of Nature (IUCN) to encourage people around the world to experience nature.